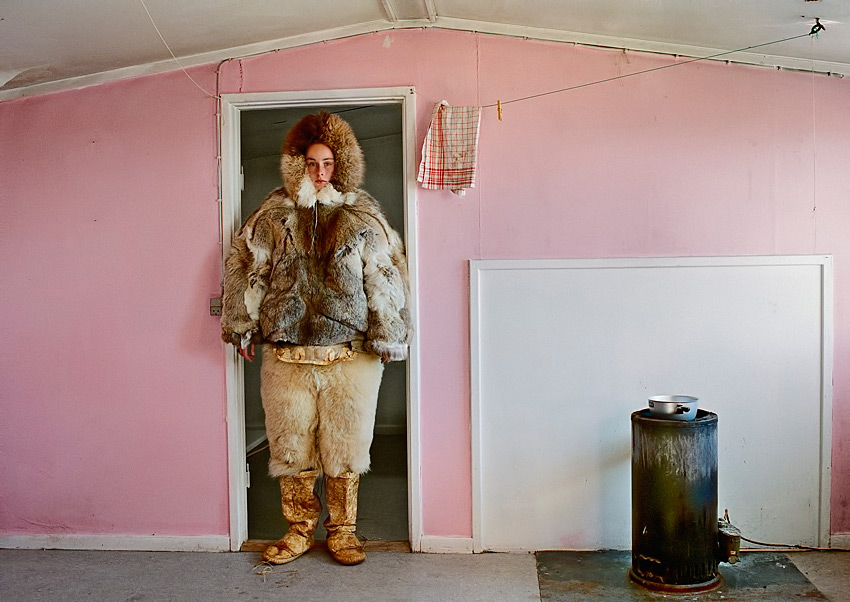 Tiina Itkonen lives and works in Helsinki, Finland. She graduated from Turku School of Art and Communication (renamed the Arts Academy of Turku) in 1995 and the University of Art and Design in Helsinki (renamed Aalto University) in 2002.
Since 1995 Itkonen has travelled regularly to Greenland to photograph the polar landscape and its people. She has traveled more than 1 500 kilometers along the west coast of Greenland by dogsled, fishing scow, sailboat, helicopter, small plane, cargo ship and oil tanker and along the way spending time in small villages and coming to know the Greenlandic people.
Tiina Itkonen´s work has been exhibited at international venues including the 54th Biennale de Venezia; 17th Biennale of Sydney; Albert Kahn Musée, Paris; Anchorage Museum, Alaska, Danish National Museum of Photography, Copenhagen; Kunstmuseum Wolfsburg and Ludwig Museum, Koblenz.
Her works are featured in collections including the Moderna Museet, Sweden; DZ-Bank Collection, Germany; Statoil Collection, Norway; Anchorage Museum, Alaska, Helsinki City Art Museum, Finland as well as numerous private collections throughout Europe, USA and Asia.
Itkonen's first book, Inughuit, a selection of photographs of the lives of Inughuit, the world's northernmost people, was published in 2004. Her second book Avannaa, about Greenland´s landscapes, was published in 2014, by Kehrer Verlag.
Her work appeared in such publications as Lens Blog at New York Times, Conde Nast Traveler, Le Monde.